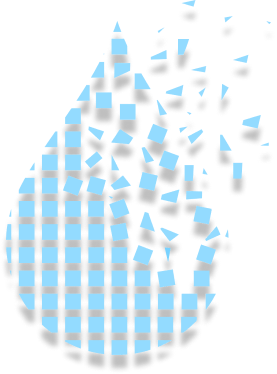 Monitoring the Seine River in Paris
Fluidion ALERT technology contributes to the monitoring of the Seine River in preparation for the 2024 Olympics, and for opening public bathing water in the river thereafter.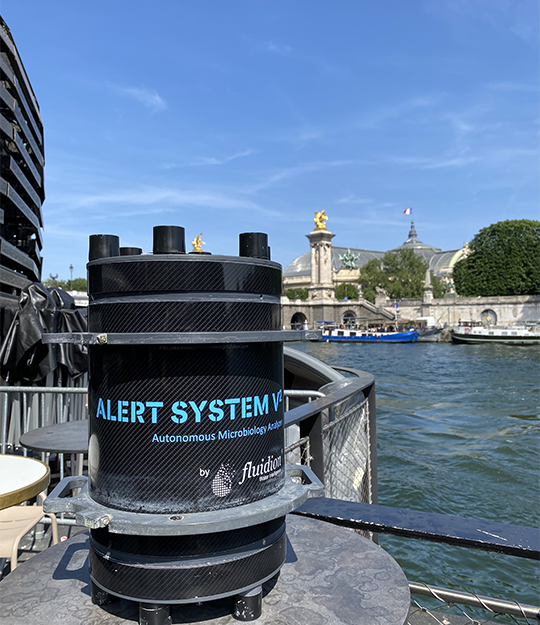 Context
The Seine River, the vital and iconic river flowing through Paris, France, was once instrumental for transportation and trade, but was also a sewage conduit. Urban development caused significant pollution and degradation over the years, eventually prompting a swimming ban in 1923 due to elevated health risks from various pathogens originating in untreated sewage. Even to this day, during rain events, combined sewer overflows (CSO) from the City's complex sewage infrastructure can introduce significant contamination in the river. Although initiatives such as a ban on untreated sewage discharges and improved water treatment from the 1960s onward began to revitalize the river, swimming in the Seine remains risky due to residual bacterial contamination above regulatory levels.
Yet, Paris is determined to make a change. With the upcoming 2024 Olympics, the City Hall is poised to lift the century-long swimming ban for open water swimming events scheduled to take place in the river, and plans to open the Seine for public swimming by 2025, breathing new life into this historic waterway. Paris's great ambitions are backed by a 1.4 billion euro ($1.5 billion USD) Swimming Plan, bringing together more than two dozen stakeholders including government bodies, sanitation agencies, and river authorities. Their shared goal is to reduce public health risk levels, as measured by E.coli and intestinal Enterococci indicators, beyond European bathing directive standards. To achieve this, the city has launched a series of major engineering projects to overhaul its antiquated sewer system and build water capture infrastructure to eliminate the effect of CSOs by mitigating pollution influx during storms. Furthermore, plans are underway for about 20,000 homes and about 170 boats discharging wastewater directly into the Seine to be connected to the City sewer system instead.
Prior to 2017, water quality was monitored by the Regional Health Agency and the main drinking and waste water utilities, Eau de Paris and SIAAP, in collaboration several academic programs, using traditional grab sampling techniques and laboratory analysis. However, this method had limitations, including laboratory delays and location discrepancies (the data being available only at some sampling stations where measurements were performed). The city needed an automated, cost-effective solution to streamline real-time data collection and align with the Olympic committee's vision, prompting a new approach to water quality management. Under these circumstances, the City of Paris embarked on a collaborative journey with Fluidion, with the objective of collecting data to establish a comprehensive baseline of the Seine's water quality over the years leading up to, during, and after the 2024 Olympic Games.
Objectives
Validate autonomous solution capable of conducting daily measurements of E.coli and Enterococci bacteria at various locations, with minimal human intervention.
Measure the impact of individual sources of pollution in the Seine River
Evaluate the effectiveness of initiatives to reduce contaminated discharges.
Monitor open water swimming events scheduled in the Seine for the 2024 Olympics to safeguard the health of participating athletes.
Make the Seine a public swimming area by 2025 and monitor water quality subsequently
Solution provided
Since 2017, the City of Paris has deployed the innovative Fluidion ALERT technology that automated daily measurements of E.coli and Enterococci over a span of several years. The in-situ measurements were rigorously compared with intermittent data collected by Eau de Paris, affirming the ALERT Systems' accuracy and consistency with laboratory results.
Fluidion didn't stop at providing the necessary tools; they conducted regular monitoring campaigns at key locations along the Seine River, including areas near the Bibliothèque Nationale, Pont de Iéna, Pont Marie, and Pont Alexandre III - future site of the Olympic events. Paired in-situ analyzers for E.coli and Enterococci were deployed at multiple locations allowing daily monitoring. Moreover, Fluidion was able to respond to significant rain events and monitor CSO events with high-frequency sampling, to accurately chart pollution dynamics and measure concentration peaks through detailed pollutographs – a feat achievable only with an automated analyzer like the ALERT System. Fluidion ALERT technology also indicated the duration for water quality to recover to its baseline quality levels. After several full-year campaigns, the monitoring period was eventually concentrated to the summer months (June to October), the most critical period for both the Olympics and the Swimming Plan.
Fluidion's ALERT analyzers, designed for simple installation, were adaptable to any location and did not require special infrastructure. The analyzers could be deployed as floating units or attached to specially designed rails, offering flexibility to suit the operational constraints of the City of Paris.
Beyond providing technical solutions, Fluidion embarked on a comprehensive Data as a Service (DaaS) contract with the City, ensuring complete management of operations, from system installation to data delivery. This partnership is set to continue through the 2024 Olympic Games, and Fluidion's water quality measurements will contribute to the successful conduct of events planned along the Seine. Furthermore, Fluidion is actively participating in the initiative to open various bathing sites in the Seine and Marne rivers by 2025.
Additionally, Fluidion is partnering with inhabited barge and boat owners on the Seine and Marne, monitoring the effectiveness of their on-board effluent treatment systems to ensure they meet current regulations. Fluidion also played a key role in the initial pilot test of wastewater chemical disinfection with SIAAP (the sanitation authority of the Parisian agglomeration), assessing in-situ the effectiveness of Performic Acid treatment.
Outcomes
Successfully established one of the most comprehensive high-frequency datasets ever compiled on the Seine's water quality, forming a consistent baseline regarding the river's E.coli and Enterococci bacteria levels.
Successfully monitored the water quality impacts of individual storm events, which often trigger overflows in the combined sewer system that discharge into the Seine.
Demonstrated the effectiveness of chemical wastewater disinfection, which is essential to reduce dry weather bacterial pollution
Has consistently provided comprehensive scientific reports examining the correlation between bacterial concentrations and various factors, such as rain events, river flow rate, and sewage system discharges, helping understand how specific events affect the water quality of the Seine at particular locations.
Testimonial
To ensure the water quality upstream and thus prevent risks of water quality degradation in the swimming area, the city of Paris has chosen to equip itself with two FLUIDION devices. By automatically sampling several times a day, without risk of cross-contamination between different samples, and by automatically transferring a result within a few hours, the city of Paris has an alert system that allows it to anticipate any pollution event arriving in the swimming area, enabling it to make the decision to temporarily close if necessary.
Brigitte Durand, Former Head, Water Policy, Water and Sanitation Department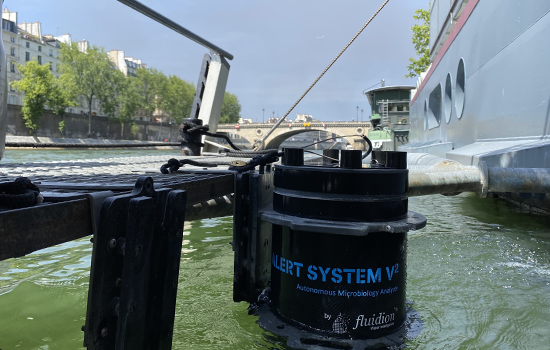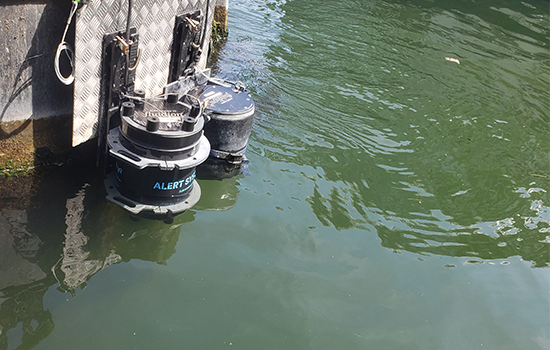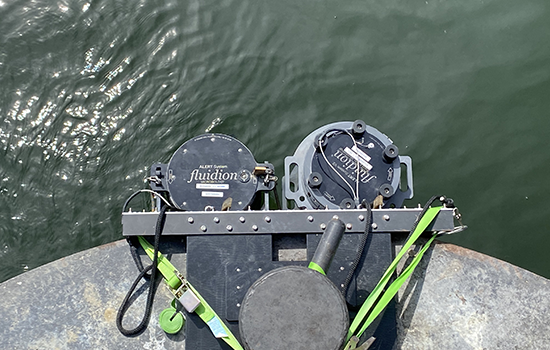 Sustainability
At Fluidion we strongly believe that technology has a key role to play in our strategy to ouline a path forward towards a sustainable planet. We provide meaningful contributions to the following United Nations Sustainable Development Goals:
Related Products
Several Fluidion products are well-adapted for Recreational Water applications, by providing rapid microbiological risk information from instruments with extraordinary ease-of-use, that are fully-automated and perform automatic remote data transmission and archival. Below is a selection of recommended products: