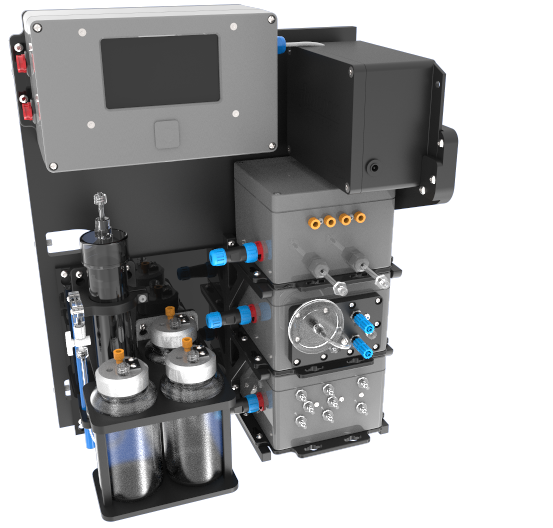 e-CHEM V2
A miniaturized laboratory at the heart of your water network. e-CHEM V2 is a powerful lab-on-chip analyzer that provides autonomous multi-parameter chemical measurements in the field.
The Lab-on-Chip Chemical Platform
Modular: Continuously upgradable and easy to customize for the most complex monitoring requirements.
Autonomous: Weeks of high-frequency measurements on a single reagent supply and battery charge.
Accurate and Precise: Excellent repeatability and long-term accuracy through optimized measurement protocols, proven in side-by-side studies in operational conditions.
Versatile: Easy to install and ready to operate within minutes, can be deployed to monitor remote assets and processes.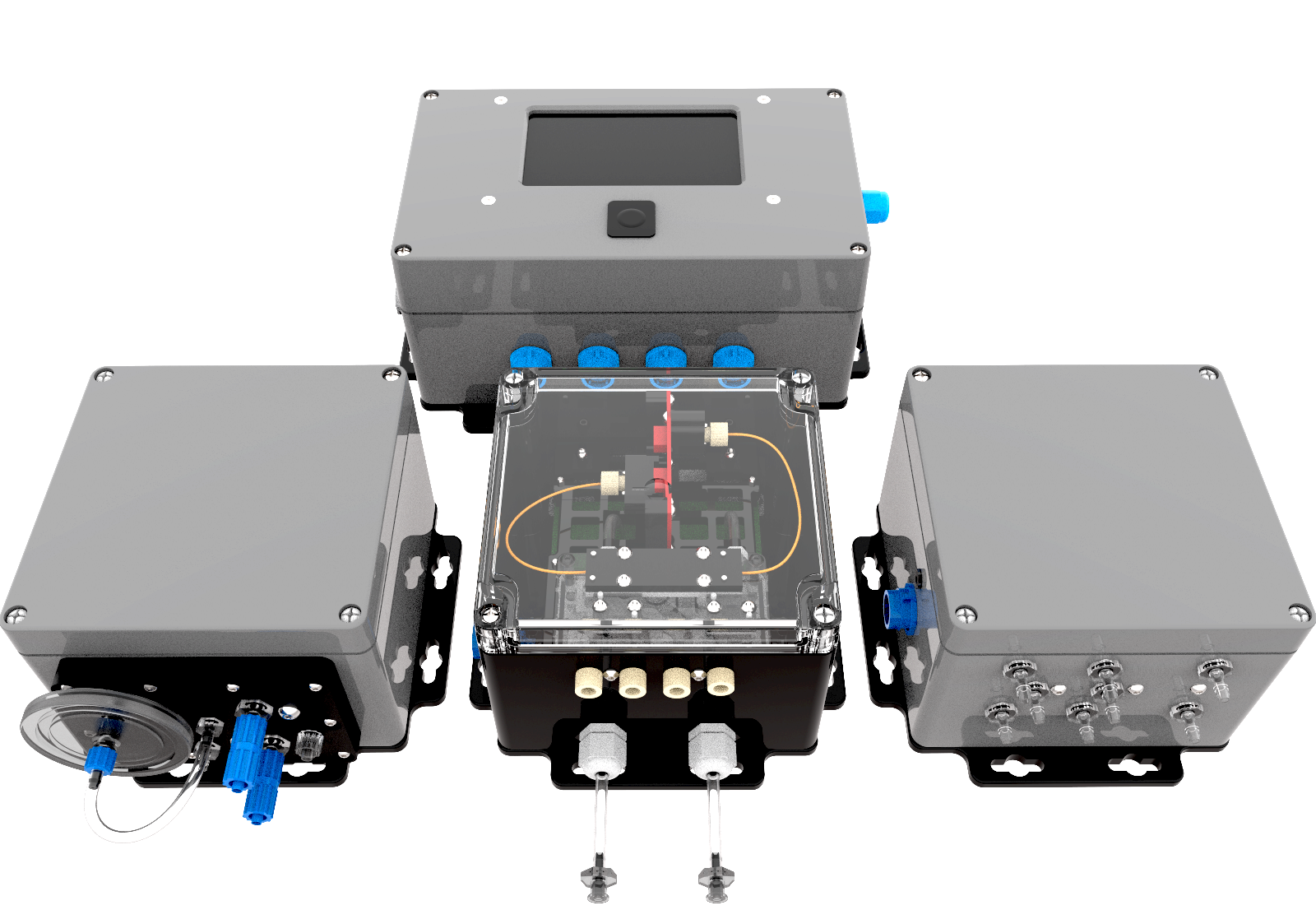 Zero waste: Implements efficient filtration and patented microfluidic backbone technology, enabling weeks of continuous operation with minimal reagent supply and no liquid waste !
IoT-enabled: Full data visualization and control from the local touch screen or from the cloud, through an intuitive Data Analytics and instrument control interface.
Over-the-air upgrades: New measurements and specific protocols implemented over-the-air, requiring no hardware modifications.
Durable: Deployed in multi-year monitoring projects on critical infrastructure.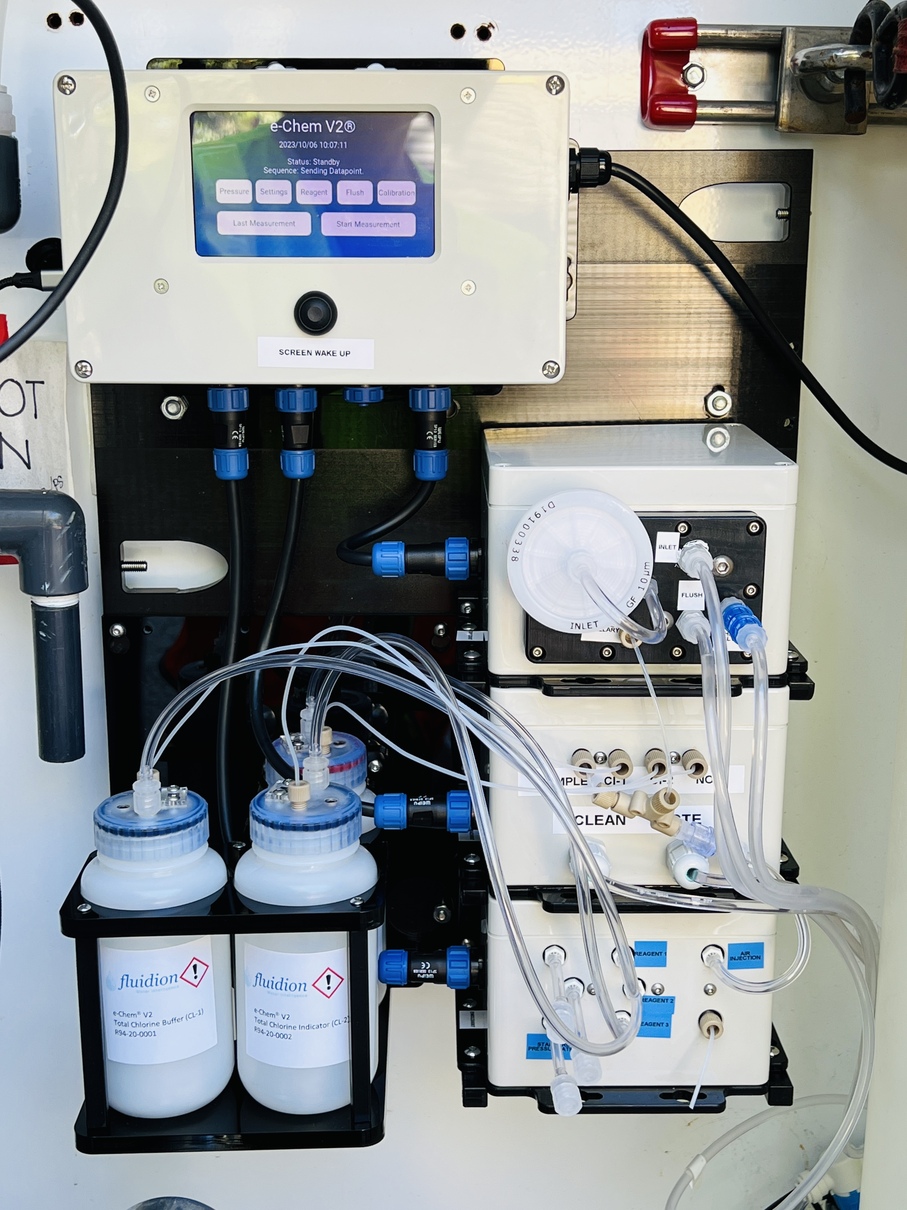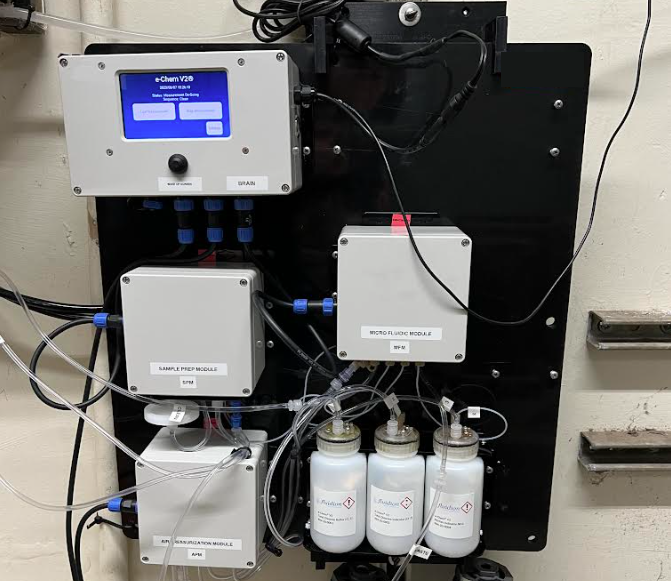 Why the e-CHEM V2?
‣ Generate automated, high-frequency, real-time water quality data, using the same high-accuracy protocols and matching laboratory results.
‣ Rely on trusted multi-parameter analyzers to make timely, data-driven decisions and plan preventive and corrective actions.
‣ Streamline your monitoring operations with this self-contained system that can operate for weeks unattended, on a single battery charge, without any infrastructure requirements.
‣ Easily implement ubiquitous water quality monitoring at production plants, water tanks and reservoirs, in the distribution network, or on-premises.
‣ Monitor multiple chemical parameters: total chlorine, nitrite, pH, ortho-phosphate, ammonia, nitrate, DOC, and plenty of others on demand. Configure the analyzers for measuring new parameters in minutes, with over-the-air upgrades for new protocols.
‣ Take advantage of break-through technology upgrades to Fluidion's e-CHEM Legacy technology (Learn More), developed with support from a National Science Foundation SBIR award.
‣ Benefit from e-Chem's proprietary reagent delivery system, which greatly increases accuracy and repeatability.
‣ Visualize data, control and communicate with the system through an easy-to-use touchscreen or remotely, through our secure Data Analytics platform.
‣ Detect and predict water quality degradation phenomena by monitoring key parameters in real time and at high frequency (up to 120 measurement/day).
‣ Optimally plan and evaluate the effectiveness of mitigation actions (breakpoint chlorination, disinfection, water turnover increase, etc.) in response to identified water quality issues.
‣ Eliminate the logistical costs and carbon footprint associated with manual sampling.
‣ Use the information-rich real-time data to generate a digital twin of your infrasructure.
Sustainability
At Fluidion we strongly believe that technology has a key role to play in our strategy toward a sustainable planet. The choice of the e-Chem V2 means a direct approach to the following United Nations Sustainable Development Goals: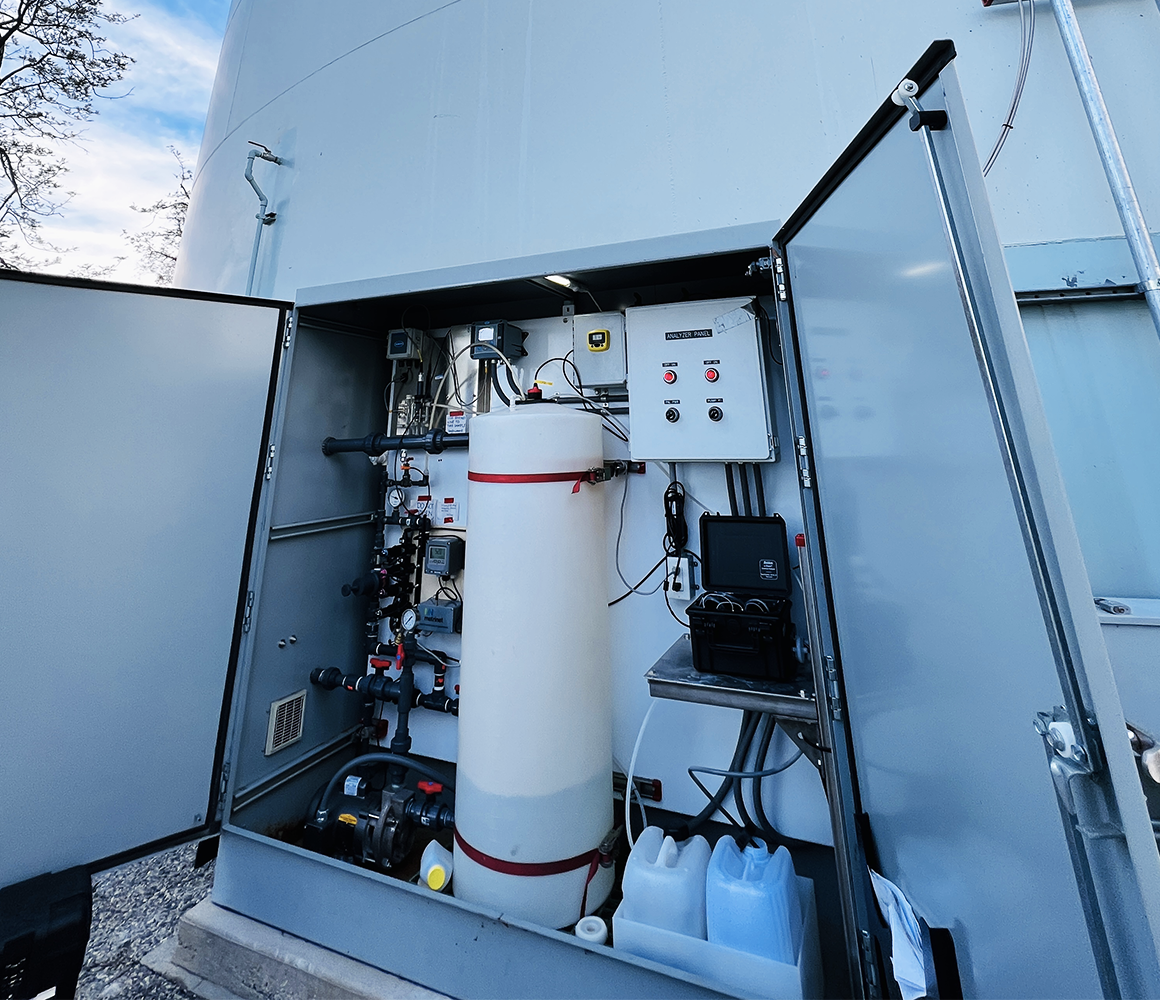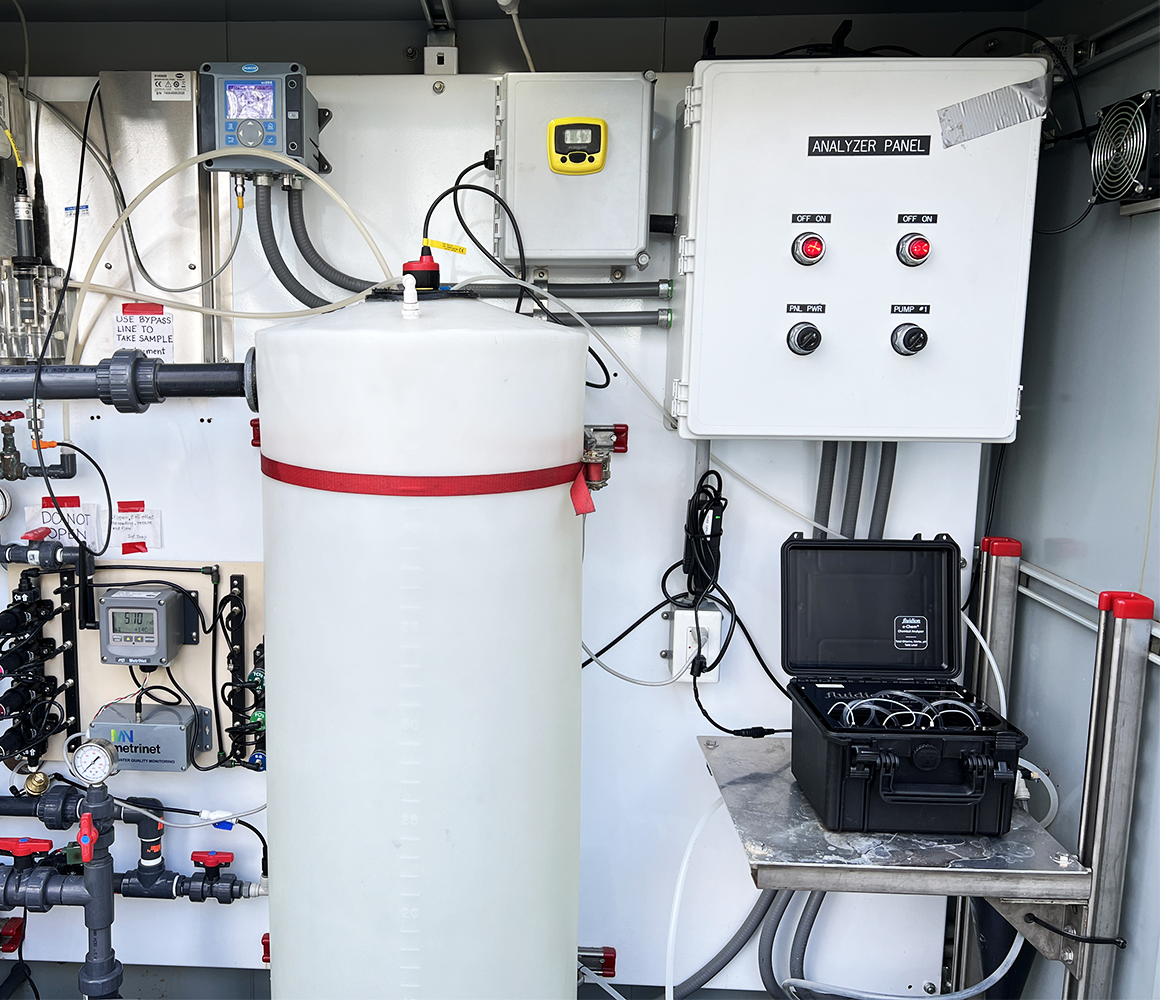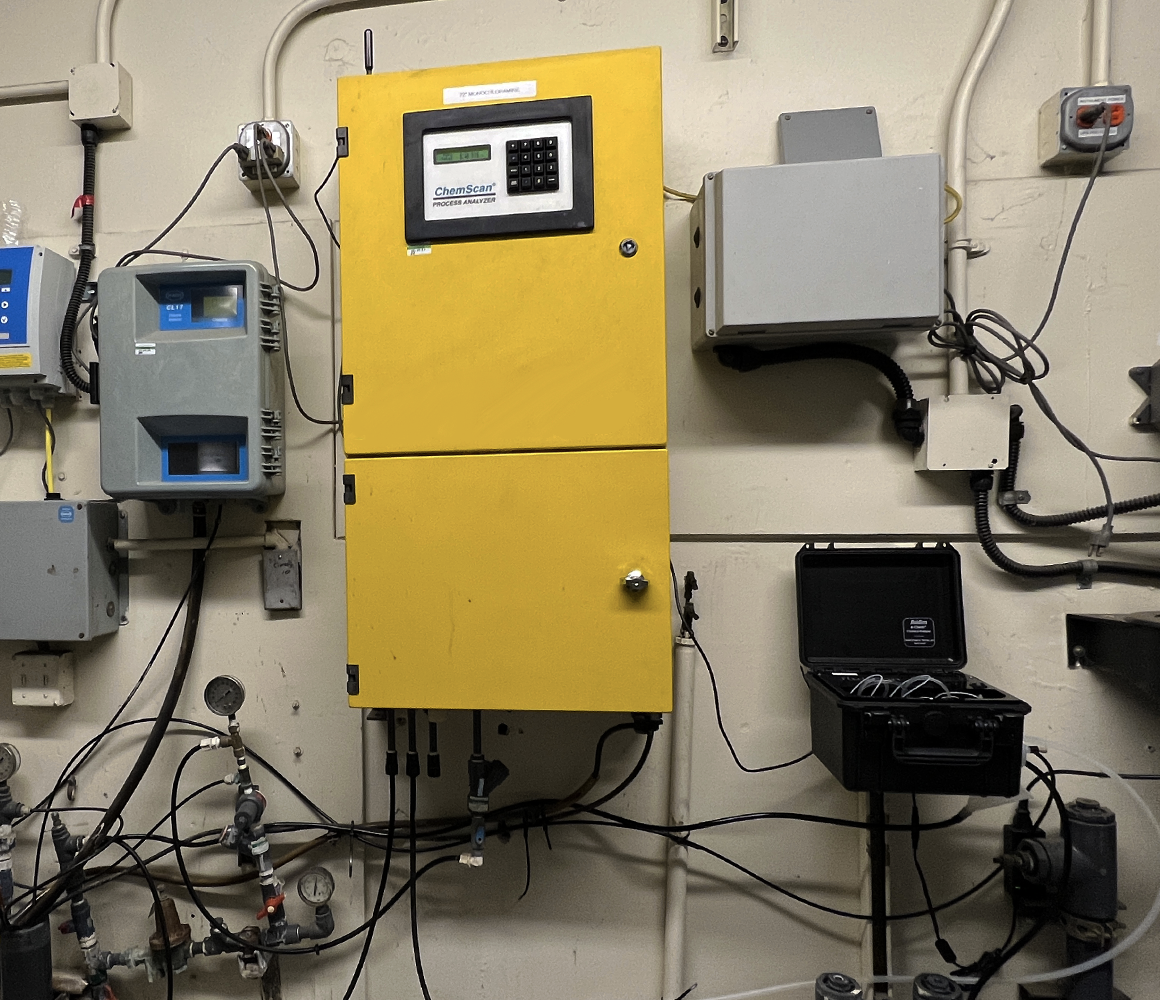 e-CHEM Legacy
The e-CHEM Legacy analyzer, a groundbreaking product from Fluidion, represents a revolution in water quality monitoring. Its development was supported by the prestigious NSF-funded SBIR program, which recognized its potential to address global water quality concerns. Beginning with Phase I, the analyzer proved to be a game-changer - providing high-resolution, automated, in-situ measurements of multiple contaminants, from nutrients to chlorine and more. Phase II marked the product's path to commercialization. Rigorous optimization for user operations and adaptation to harsh environments expanded its applications. During this phase, e-CHEM demonstrated its superior sensitivity and accuracy, meeting and exceeding traditional laboratory capabilities. In a pivotal collaboration with the Los Angeles Department of Water and Power (LADWP), the e-CHEM Legacy endured a 4.5 year pilot operation. It successfully detected nitrification trends and provided real-time water quality insights, demonstrating a strong linear correlation with traditional measurements.
The e-CHEM Legacy has been upgraded to become the e-CHEM V2.
Online Monitoring of Drinking Water Nitrification in Los Angeles

The e-CHEM analyzer provides valuable insights into water quality. It was customized for a customer requiring early warning of nitrification in remote tanks and online monitoring of key parameters such as: nitrite concentrations, total chlorine, pH, tank height, and ambient temperature.
Interested in the e-CHEM V2?