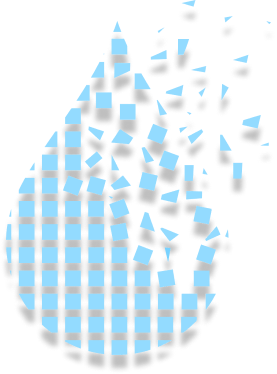 About Us
Fluidion is transforming water quality monitoring in drinking water, wastewater, and natural environments, through the development of innovative solutions that can impact millions of lives worldwide
Company Vision
Fluidion is redefining the state of the art in water quality and environmental surveillance through leading-edge fully-validated monitoring solutions that support data-driven decision making for government agencies, international organizations, academic institutions and private sector companies worldwide. We empower them with the tools to understand and protect water resources and reduce associated public health risks. As a committed player in the water quality industry, we develop innovative solutions that have the potential to impact millions of lives worldwide.
Our smart instrumentation is broadly protected by our patent portfolio and proprietary know-how, covering a range of water quality parameters in microbiology, chemistry, and physical measurements. Our award-winning technologies have been validated through numerous peer-reviewed studies, publications, and international certifications.
We advocate values of inclusion and diversity, collective intelligence being one of the central pillars of our culture. We trust that our work has meaningful social and environmental impacts that will contribute to our planet's sustainable future.
Our Values
Scientific Integrity
Our technology is built on solid scientific concepts, developed through transparent, proven methodologies. We are scientists to the core and regularly publish our results in peer-reviewed journals, and actively pursue and obtain independent validation for the performance of our products. We engage in collaborative work with major academic institutions worldwide.
Commitment to Innovation
Thinking "outside the box" and "into the chip," we encourage novel approaches to improve the performance of our instruments through highly-integrated miniaturization and the latest in microfluidic technology. We deploy the latest scientific, engineering and manufacturing innovations, in the process creating valuable intellectual property.
Social Responsibility
Our focus is on technologies that have the potential for global environmental, social and public health impact. We believe technology and individual responsibility need to be combined to address the global water, environmental and sustainability challenges of our times. We don't shy away from doing our part.
Respect
We advocate values of respect, transparency and integrity toward our clients and partners and within our own team. We believe in the ability of visionary individuals and small teams to achieve extraordinary outcomes, and we support bold, innovative approaches to environmental action through technology.
The Team
Fluidion is powered by a team of passionate application specialists, scientists and engineers who are leaders in their fields, working together on technology-based solutions to address tomorrow's global water quality and public health issues. Deeply rooted in science, research and technology, the team combines decades of experience in microfluidics, nano-technology and sensor development with significant management, industry, and global market expertise.
Founder and Board of Advisors
Fluidion was founded by Dan Angelescu in Paris, France in 2012, and launched its US affiliate headquartered in Los Angeles, California in 2015. He and the Fluidion team are supported by a motivated Board of Advisors who bring together business experience combined with deep industry and scientific expertise in microbiology, water treatment technology, drinking water, wastewater, agriculture, and laboratory method development and analysis.
Dan Angelescu - Fluidion Founder and CEO. Dan holds a Ph.D. from Princeton University and a B.S. from the California Institute of Technology, both in Physics. He has strong academic and industrial expertise in applied physics and microfluidic sensors, as well as international management experience. For the past 15 years he has focused on implementing breakthrough water quality and environmental sensor technologies, and holds 30+ patents, 50+ publications and 3 books (including a single-author reference text on microfluidics). Prior to starting Fluidion, Dan held a Professor position in the Engineering department of ESIEE Paris - Université Paris-Est, and was a Senior Research Scientist at Schlumberger Technologies (Cambridge MA, USA), in charge of pioneering the company's first microfluidic platform for extreme environments (high pressure and temperature). Outside work, Dan is an avid outdoors enthusiast (hiking, climbing, skiing, swimming, sailing).
Marco Aieta - Board Advisor. Marco is an internationally-recognized water treatment expert, specialized in designing regulatory and treatment optimization strategies, and holds a Ph.D. degree in Environmental Engineering from Stanford University as well as a Business Management degree from Harvard University. Marco served on the USEPA Drinking Water Advisory Council. Marco held positions of Director of Global Water Services for MWH Global, Director of Engineering at MWH Constructors, and Director of Water at Carollo Engineers.
Cristina Ahmadpour - Board Advisor. Cristina is a specialist consultant in emerging water technology and best industry practices, with a Master degree in Environmental Law and Policy from the Vermont Law and Graduate School. Cristina is highly-experienced in commercial, technical, and regulatory aspects in the water industry. She maintains a strong network of trusted relationships with a large panel of industry stakeholders.
Andy Eaton - Board Advisor. Andy is a world-renowned expert in water quality, regulatory issues, and laboratory method development and testing, with 40+ years of experience in the water industry. He holds a Ph.D. degree in Geochemistry from Harvard University and did postdoctoral work at the California Institute of Technology. He spent 40 years at Eurofins Eaton Analytical and its predecessor, MWH Laboratories, serving as Technical Director and Vice President for much of that time. He has held numerous advisory appointments for federal (USEPA Methods and Data Comparability Board, miscellaneous regulatory review groups), state (California Environmental Lab Technical Advisory Committee), and industry (AWWA SDWA, PFAS, CCL, and Perchlorate Technical Advisory Workgroups, IBWA Board of Directors, Standard Methods for the Examination of Water and Wastewater Joint Editorial Board).
Channah Rock - Board Advisor. Channah is Professor and Extension Specialist at the University of Arizona, and holds Ph.D. and M.S. degrees in Civil and Environmental Engineering from the Arizona State University. She is a leading expert on wastewater reuse practices and specializes in molecular pathogen detection in agricultural water, acting as Water Quality and Sustainability Extension Specialist. Channah is involved in regulatory aspects related to Ag water, and has had an advisory expert role for FDA's Food Safety Modernization Act.
Charles de Rudder - Board Advisor. Charles is a business strategic advisor on topics related to product strategy, solutions design, market placement and launch strategies. He holds International Business degrees from Dublin City University and NEOMA Business School. He has extensive background and experience in finance and corporate strategy aspects.
Sustainability
At Fluidion, we strongly believe that technology has a key role to play in our strategy toward a sustainable planet. We provide meaningful contributions to the following United Nations Sustainable Development Goals: